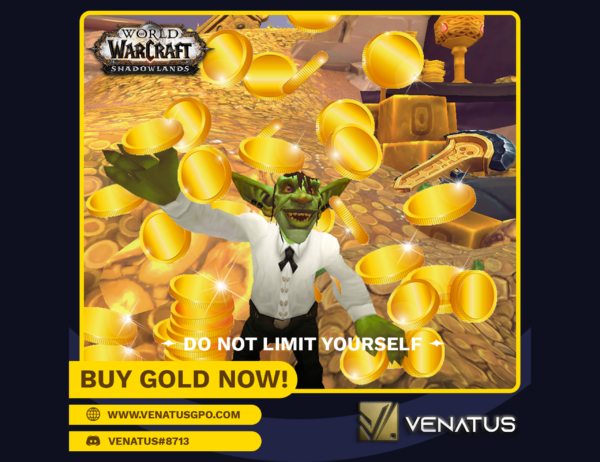 Gold – Shadowlands
$0.00
Gold in World of Warcraft Shadowlands is important in almost every aspect of the game. To play effectively in raids and dungeons, you will need a lot of consumables and equipment upgrades. If you want to play PvP, it will be much better if your equipment has the necessary enchantments and gems. Collectors spend huge amounts of gold on various pets and mounts. Going to the Shadowlands, it is better to have a lot of gold because it is needed literally at every step. In order not to waste your time on the endless farming of this currency, you can turn to the help of the Venatus GPO service and get the necessary gold as soon as possible.
On this page, you can buy WoW Shadowlands Gold US and EU region and we will deliver the required amount of gold to your character quickly and with a quality guarantee.
WOW SHADOWLANDS GOLD US DELIVERY ETA:
Depending on the selected quantity and server, the delivery time can vary from a few minutes to 1 day. Please check the information before buying.
HOW DOES THE WOW SHADOWLANDS GOLD US PURCHASE SERVICE WORK?
You can input the needed amount of gold on the panel. Also indicate the faction, nickname, and server of the character to which you want to deliver the gold.
After placing an order, our manager will contact you to clarify the time and method of gold trading.
Gold will be delivered to you on the specified character in the selected way and as soon as possible.
Answers to other questions you are interested in can be obtained from the manager in the chat.
WHY SHOULD YOU BUY WOW SHADOWLANDS GOLD US AT VENATUS?
Fast delivery of gold.
Fair prices and a flexible system of discounts.
We work 24/7 and are always ready to help you.
We use only trusted gold suppliers: all gold is obtained exclusively by legal means.
We sell gold in all game realms for any faction.
Our team has extensive experience in providing services in online games, as well as selling in-game valuables, so we are ready to complete tasks of any complexity. If you have not found the product you are interested in, contact the manager in the chat and we will make a personal offer for you.