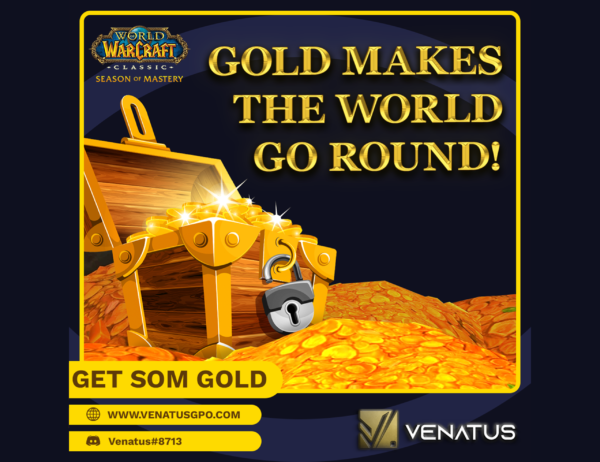 Gold – SOM
$0.00
SEASON OF MASTERY GOLD
The new phase of World of Warcraft Classic continued with the Season of Mastery 12-month cycle of all content. Players will again have to live through the entire history of the world of Azeroth, but already in a simplified mode. WoW Classic gold is still the most popular type of farming and as before, you can get it in different complex ways.
Venatus GPO provides an opportunity to Buy WoW Season of Mastery gold for regions Europe and America at the best and cheapest price. When you buy WoW Classic gold from us, you can be assured of a safe transaction, get your gold in no time, and get discounts and bonuses on our site. We'll free you from the endless classic gold farm and give you the opportunity to buy the items of your dreams.
HOW DOES BUYING SEASON OF MASTERY GOLD WORK?
When you order WoW SoM Gold from Venatus, you can be 100% sure that the transaction is legal and secure between you and the seller. With a large base of sellers, we can offer different delivery options as well as speed.
Place an order to buy WoW Season of Mastery gold using this guide:
Go to your region (Europe / USA) merchandise.
Select your server and side.
Use a convenient shipping method (read more in the product).
Specify the amount of classic gold to buy on your server.
Leave a nickname of your character on which to send the gold.
If you still have questions, or you made a mistake in the order, our managers are always in touch and will help solve any problem.
WHY SHOULD I CHOOSE VENATUS AS MY WOW CLASSIC SOM GOLD SELLER?
We value each of our customers and are ready to provide the best conditions as well as security and confidentiality. Using the Venatus GPO service, you are guaranteed to get what you order, as well as 24/7 support for your orders and just consultation.
Reasons to buy from us:
Officially registered company — is a guarantor between seller and buyer.
Popular payment methods such as PayPal, Visa, MasterCard, Bank transfer, Cryptocurrency.
Refund policy within 31 days.
Only verified sellers with verification.
Support is easy to use messenger around the clock.
A large amount of gold on all servers.
SEASON OF MASTERY GOLD FOR SALE
Our team is interested in wow classic gold farmers and ready to provide the best conditions for its implementation. We are ready to sell your gold safely with a guarantee of timely payments to a convenient method.
In order to Sale WoW Classic Gold, you need:
Not to use bots, dupes, and other prohibited Blizzard methods.
Deliver the gold in the specified order with all reports.
Have Discord or other messengers.
For resellers, working conditions are discussed separately.
If you're ready to work with us, then apply to the contact labeled WoW Classic Gold.