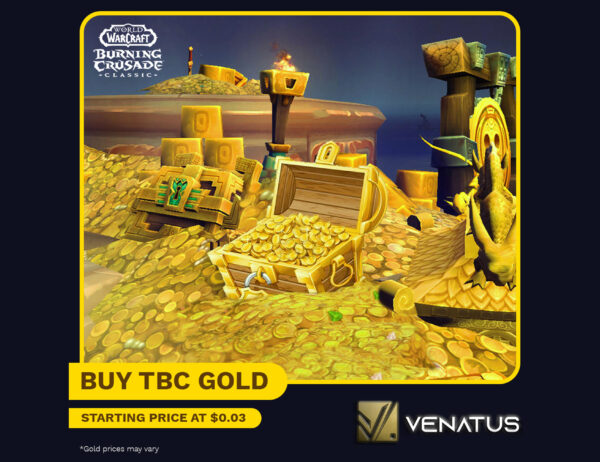 Gold – TBC
$0.00
BURNING CRUSADE GOLD
The main currency in the game can be used to achieve almost anything—its World of Warcraft Burning Crusade Gold. You can buy weapons and armor at an auction, upgrade your skills in both your character and your chosen profession, purchase a means of transportation, and much more. Unfortunately, independently obtaining game currency, WoW TBC leaves much to be desired for many reasons. To make life easier for players, we offer WoW TBC Gold to anyone and everyone on the best terms possible.
WHY DO YOU NEED TO BUY WOW TBC GOLD?
When starting out in WoW TBC Classic, any player will face many problems based specifically on gold. Virtually every aspect of World of Warcraft will require an investment of game funds. A couple of simple examples:
Buying expendable items for classes such as rogue, paladin, warlock,  hunter, and others.
Purchasing a huge number of consumable items when leveling up any profession.
Increasing the level of skills, without which it is simply impossible to do.
The cost of learning to ride a horse and getting a means of transportation.
Trading at an auction.
All this and dozens of other aspects will require TBC gold in an amount unavailable to newcomers from the start. Even saving up for the very first mount and riding skill will be very difficult because at the beginning of the game only bronze coins dropped from monsters. Farming turns into a hellish chore. In this case, buying WoW TBC gold from experienced players who get the currency much faster is ideal.
WHY IS WOW TBC GOLD SO HARD TO GET?
If you've had time to play BFA or Shadowlands, you may have noticed that WoW Burning Crusade Gold is fairly easy to obtain. Just by completing a string of quests in any location, you can safely count on 7000-10000 gold coins, which is enough to start the game.
If you think that in World of Warcraft Burning Crusade, everything is the same—it's a big mistake. The currency mining rate in the old game patches is very, very low, so together with 7000-10000 WoW TBC Gold, you will get a maximum of 50 coins.
Given the fact that TBC has added a giant location, which is best navigated by a flying mounter, the issue of gold mining becomes most acute. Even the most conservative estimate is that the player will need about 300 Burning Crusade Gold to purchase a vehicle and a skill. This is very difficult to do without help. Moreover, characters in old patches are much weaker and monsters take longer to kill, so TBC Gold is very slow to be obtained. We offer the fastest way to make your character cooler—WoW TBC Gold for Sale.
HOW TO BUY BURNING CRUSADE GOLD TRANSFER PROCESS WORKS?
The gold transfer and mining process itself is perfectly safe. We only work with major gold suppliers in World of Warcraft, ranging from well-established guilds that receive gold via legitimate means to solo players who have dedicated their time to WoW TBC Gold mining.
After you have completed registration for an account on our website and contacted our manager to clarify the details of the order, you will make payment. Thereafter, our manager will tell you the details of the players who will transfer a specified amount of WoW TBC Gold. You need to go to the world specified by the game, meet with the executor in the agreed location or receive gold by another agreed method.
There are several ways to deliver Cheap WoW Burning Crusade Gold, now let's go over them in detail.
Mailbox transfer
By choosing this method of receiving the currency, you will receive the specified amount in the mail along with an explanatory letter. The disadvantage of this method is that it may take 1 to 2 hours of real-time. However, the transfer via mailbox is the most secure method, according to our experts.
Personal handover
Sometimes called face2face. In this case, the place and time of the transfer are agreed upon beforehand, both players come there and make the exchange. Probably the fastest in time method of obtaining game currency, but potentially not the safest.
Auction-based transfer
A valid method whereby a client sells a low-grade item to a player for a specified amount of gold. For example, a "green" sword sold for 10000 gold. This method is safe, but with one drawback: the auction house charges a 5% commission on the transaction amount.
Transaction within the guild
With this option, the guild bank receives the agreed amount, the client joins, receives WoW TBC Gold & safely exits. The most complicated and time-consuming option in terms of action.
Only then do you inform the manager that the transaction has been completed and there are no claims against the executor. If this is the case, only then will the gamer receive payment from us. Otherwise, the transaction is canceled, and the payment is returned to you and the executor will be fined. And only after all the basic operations, the customer can leave feedback on our work.
REASONS TO CHOOSE VENATUS GPO AS SELLER OF WOW TBC GOLD
Among the main reasons are the following:
Giant experience in the gaming industry;
Many performers on different servers;
Hundreds of testimonials from satisfied customers;
Guarantee of order completion;
Support manager 24/7 on-site and in Discord;
Cheapest WoW TBC Gold on the Stores;
Working with us, you can be sure that the transaction will go safely and just in time.